CJK6150B-1 CNC LATHE
(Third gear frequency conversion governor)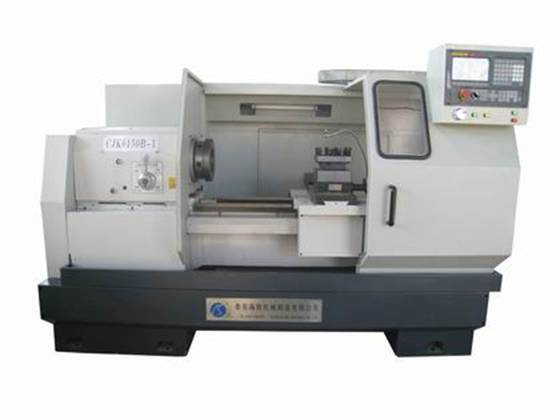 1. Technical parameters
| | |
| --- | --- |
| items | parameters |
| Maximum workpiece swing diameter over bed | Φ500mm |
| Dragged on board the maximum workpiece swing diameter | Φ290mm |
| Maximum length of workpiece | 750/1000/1500mm |
| Range of spindle speeds | 20-100;100~550;400~1600rpm |
| Spindle bore diameter | Φ82mm |
| Skateboard maximum stroke (X) | 290mm |
| Width of guide rails | 390mm |
| The form of spindle head | D-8 |
| Taper of spindle bore | 1:20 |
| Turret Number of tool | 4/6/8/ or row of knife |
| Tool cross-section specifications | 25mm×25mm |
| Motor minimum setting unit | Z: 0.001mm , X: 0.001mm |
| Arbor fast forward speed | Z: 10m/min, X: 8m/min |
| Tailstock quill taper | MT5 |
| Tailstock quill maximum moving distance | 150mm |
| Power of main motor | 7.5KW |
| The lathe Dimensions (L × W × H) | 2600/2850/3350 mm×1300 mm×1750mm |
| Lathe Net | 2600/2800/3200kg |
2. main features
(1) Frequency stepless speed third gear, has the advantage of independent spindle and the gear shift, high torque , wide speed range, high processing efficiency, high precision, energy saving and environmental protection.
(2) Spindle diameter increases(φ82mm)。
(3) The width of the bed: 390mm.
3. Configuration
(1) Control system optional: Guangshu's GSK, Beijing's KND, Germany's Siemens, Japan's Fanuc, etc..
(2) Chuck optional: manual, pneumatic or hydraulic chuck.
(3) Tailstock optional: manual, pneumatic, hydraulic.
(4) Turret optional: Vertical four, horizontal six, horizontal eight, rows of knives and so on.
(5) Lubrication configuration: automatic oil lubrication system.
4. Uses
Suitable for rough turning and precision machining of steel castings, iron castings and other materials.